Super Nintendo SNES Super Mario World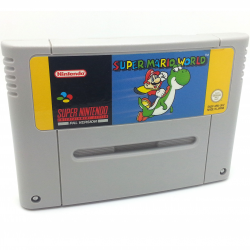 Developer:

Nintendo

Publisher:

Nintendo

Genre:

Platform

Release Date:

11th April 1992

Regions:

Players:

1-2

Super Mario World needs no introduction, this classic platformer has it all and was a massive hit in its day. The game is set on a map similar in style to Super Mario Bros 3, you can ride on Yoshi, fly with your cape and there is a massive 96 exits to find across a massive world.

This game is a must have with plenty of replay value. This is the most common SNES game and for good reason, every SNES owner should have this in their collection.