Super Nintendo SNES Super Mario Kart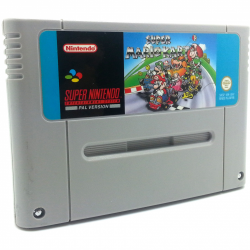 Developer:

Nintendo EAD

Publisher:

Nintendo

Genre:

Racer

Release Date:

21st January 1992

Regions:

Players:

1-2

Ahhh, this is where Mario Kart all started. A.I that cheets and frantic gameplay with a highly entertaining and addictive multi player option to boot.

If you have never played the original than you simply have to, its another one of those must own classic snes games. While common, demand keeps the price of this game relatively high compared to other SNES games.